Getting Started
"AttachéCase4" is a powerful file/folder encryption software that uses the world's standard encryption algorithm, while focusing on simplicity and ease of use for daily use.
You can easily encrypt a file by simply dragging and dropping it and entering a password, or if you drag and drop an entire folder, it will create a single encrypted file (pack the entire folder).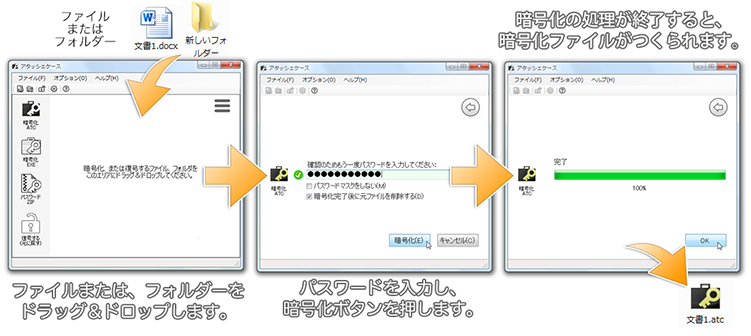 During encryption, the data is compressed, so the size of the file becomes compact.
Decryption can also be done by simply dragging and dropping or double-clicking and entering the password to restore the original files and folders.
It can also be output as an executable (*.exe) file, so you can pass the encrypted file to someone who does not have an AttachéCase, and they can decrypt it.
Extensive operation settings

There are options such as specifying the save location, deleting the file completely after processing, storing different passwords for each encryption/decryption, adjusting the compression ratio, limiting the number of password entries, and destroying data. Command line options are also available.
Adopted the world standard cryptographic algorithm
The encryption algorithm is based on the algorithm selected by NIST: http://csrc.nist.gov/ in October 2000 as the next-generation encryption standard, AES (Advanced Encryption Standard).
In adittion, an initialization vector (IV) is generated by random numbers and then encrypted in CBC mode to prevent analysis by a third party. (-> For details, please refer to the "Encryption Algorithms" page.)
The "AttachéCase" has been developed as an open source software, but since ver.4, it has been available for commercial use only for a fee. (-> For details, please refer to the "Commercial Use" page.)
Environment
It can be used in the following environments.
NET Framework 4.5 later
macOS 10.14 (macOS Mojave) later
.NET Framework 4.5 is required to run Windows; nothing needs to be installed for Windows 10 (it is installed by default).